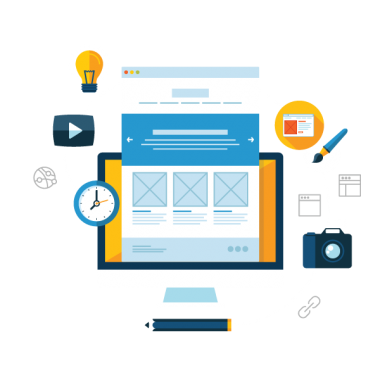 Web Design Services
A website should be able to draw attention. The whole role of a website is to attract and even engage the user just as well as communicating your brand and raising awareness about a service or product.
Your customers will not give you a second chance to be able to make a first impression.
When it comes to a digital world, first impressions are important and having an outstanding web design is the main key to success. Users tend to enjoy visiting sites that that are appealing and easy to navigate. Let our team help to make your site a great first impression with accessibility and speed.
Top Rank Tech company will get your business noticed within the digital world by using an ingenious design for creating brand personality that will have a long lasting impact. We will be able to provide you with a customized design set as well as a focus on creating a website that will fit to your brand while it engages your visitors. Our team will present, revise, and collaborate with you until we get the perfect design for your needs.
We believe that having close collaboration will be the foundation for having an outstanding result. We start with content audits when we assess your requirements and needs to a competitive analysis outlining various opportunities, we will collaborate at every step of the process.
22
Websites for TOP 1000 companies
25
Complex intranets for corporations
27
Popular Facebook applications
124
E-mail marketing strategies
23
Experienced Web Development
Tell us about your website project
Allow us to help you get your business online and passionately grow it
"I have been working with this company for just a few months now, but without hesitation, I would recommend them. Their support has been outstanding and they went beyond my expectations. I worked with plenty of website optimization companies, but none of them can compare. " "Our Google rankings and traffic improved with just a few months of working with this company. We received great service from this team has been well beyond our expectations." "With years of SEO experience ourselves, we know just how hard it would be to come up with a successful SEO strategy and be able to effectively integrate within our workframe. As our business continues to grow yearly, keeping track of our SEO strategy became too time consuming and reduced our ability to be able to focus on our core business." Rodge P.
Real Estate Manager